Tellaro Living Space
TecnoForm® S.p.A. Euro-Style Cabinetry
Inspired by our friends across the pond, the Tellaro draws from popular European design. Durable Italian-made TecnoForm® Cabinets means your kitchen will last – all while looking elegant and modern. The crisp lines and glossy mirror-like finish makes the interior feel bigger while not making the weight of the Class B RV increase. Store your ingredients in here to make the most delicious Mobile Meals.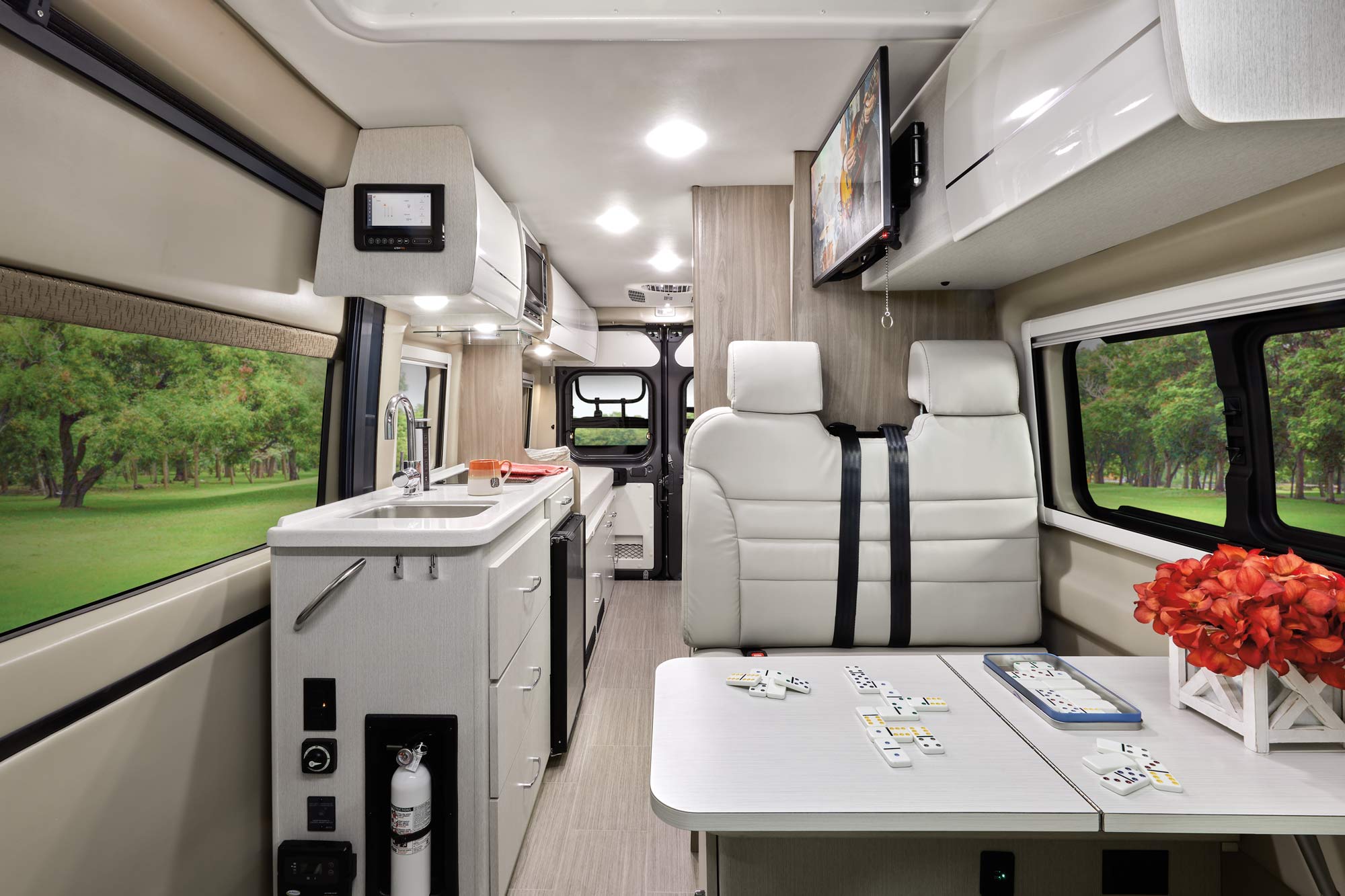 Pop-Top Sky Bunk™
If you need more sleeping space, the 20AT floor plan grants wishes with an optional retractable Pop-Top Sky Bunk™. How many people can sleep in a Class B RV? The answer in the Tellaro with this option is 3, so you can invite more to accompany your journey.
Compact, Versatile Class B Design
Class B RV Wet Bath
Do Class B RVs have bathrooms? At Thor Motor Coach, they do. Our two Tellaro Class B van floor plans each offer something unique, so you can decide the floor plan that was made to fit you. In the 20LT floor plan, there's a fully enclosed wet bathroom with plastic foot flush toilet, shower and a power bath vent with wall switch. In the 20AT floor plan you'll find a cassette toilet and shower. 
Sleeping Quarters
You'll find what you need out of the Tellaro bedroom layouts. In the 20AT floor plan, spread out on the foldable rear King-size bed and enjoy extra storage space underneath. In the 20LT floor plan, the driver and passenger side of the Class B Van has a sofa for daytime use and then lay down to form two twin beds with the Froli® sleep system, which provides cushions and airflow under the mattresses to keep you cool.
Tellaro is Pet Friendly
Hideaway Pet Food and Water
When thinking of loved ones, the Tellaro doesn't exclude your four-legged friends. Pets make travel even more fun and you need your sidekick with you for all of your adventures. There is a hideaway food and water dish, along with a drawer to keep toys or food in one spot.
Dander and Scratch Resistant
Fabrics and leatherette materials are resistant to dander and claws coupled with no carpet, makes for easy clean up and less wear and tear. If you thought you can't travel with pets, the Tellaro Class B Van will make you think again!
Stay Connected on the Road
Rapid Camp+® Multiplex System
Rapid Camp+® Multiplex Wiring Control System is an all-in-one control center, which allows owners to set up camp from either inside their motorhome or from their mobile device with an app. Control water functions, AC, lighting, tank heaters, vents, generator control and more all by a simple touch of the screen.